You are not logged in or your session has expired!
new
Solid fuel tablets 12X14G Esbit
Categories:
Page ID: 3630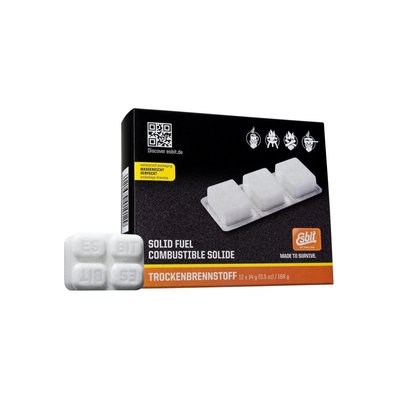 Update data
---
- Items code
- UPC: Universal Product Code (Barcode)
- Product's name
- RRP: Recommended Retail Price (VAT included)
- Аvailability
---
Description
With the solid fuel tablets in your baggage, you feel confident about bringing a meal and beverage quickly to temperature. They are versatile for cooking and heating up meals and beverages, and also suitable for starting a charcoal BBQ or campfire. 12 tablets, 14 g each, packed waterproof, with a combustion time of 12 minutes.
Works at high altitudes and sub-zero temperatures
No visible smoke formation
Almost no combustion residues
Variety of uses: for cooking and heating up meals and beverages, or for starting a charcoal BBQ or campfire
12 tablets, 14 g each, packed waterproof, with a combustion time of 12 minutes.
Size packed: L 106 x B 88 x H 31 mm
Weight: 185 g
---